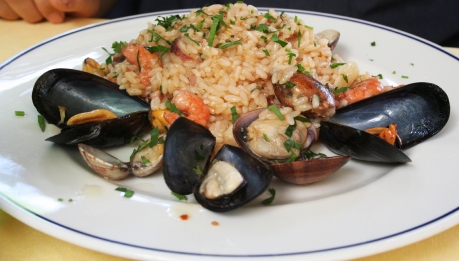 Summary
Preparation Time
30 Min
Cooking Time
30 Min
Ready In
1 Hr 0 Min
Difficulty Level
Easy
Health Index
Healthy
Servings
4
Ingredients
1 cup rice (of your choice)
1 tbsp olive oil (extra virgin)
1/4 lb asparagus (cut into 1" pieces) –sometimes I like to make this recipe with only shrimps and do away with the asparagus part.
1 lb shrimps, shelled, de-veined and cleaned thoroughly
1 oz butter (I like to keep the butter also low, you can add a little more to your specific taste)
¼ tsp ground black pepper
3 tbsp fresh finely chopped parsley
Directions
Take a large saucepan, add the chicken broth and let boil. Reduce heat and let simmer. In the mean time, take another pan, add in the oil and onions. Saute till soft and tender. Add the rice and stir. Now add in the dry white wine and mix well. Add ½ the broth in regular intervals and let cook on low heat. Keep stirring. Add the salt and pepper. Add in the asparagus and the shrimps and stir. Add in the rest of the broth and let cook till done. When it is cooked and the broth has also been well absorbed, add in the butter. Sprinkle grated parmesan cheese and parsley. Serve.