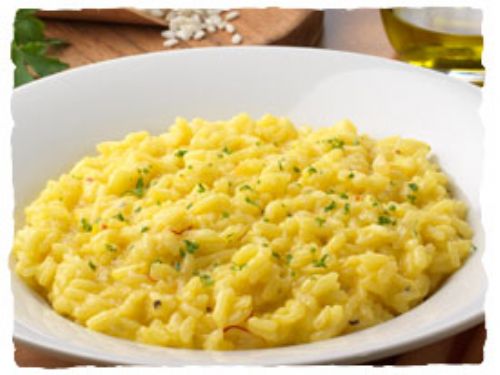 This recipe is from the files of
Riserva di Fizzano and the Rocca delle Macie Winery
– Olive Garden's Italian Partners.
RISOTTO MILANESE
Olive Garden Restaurant Recipe
1/4 cup olive oil
1/2 cup yellow onion, minced
1 1/2 cups arborio rice
1/2 cup white wine
5 cups chicken broth or 5 cups vegetable broth
1/2 teaspoon saffron thread
2 tablespoons butter
1/2 cup parmesan cheese
salt & pepper, to taste
In a saucepan, heat oil until fragrant. Add onions and saffron and saute 3 minutes or until onions are soft. Keep broth warm in a separate pot. Add rice to the onions and stir for 2 minutes. Add white wine and let evaporate. Add the broth, about 1/2 cup at a time, stirring frequently. Wait until each addition is almost completely absorbed by the rice. Continue to add until all of the broth has been used. Turn off heat. Add butter and Parmesan cheese. Stir to combine with rice/risotto. Transfer to large bowl and garnish with parsley. Serve immediately. Finished risotto should be creamy and rice is firm. Serves 4.